I love Fridays. They always make me feel like a little kid getting out of school.
Dear Carolina Panthers… you have one seriously huge fan visiting you today and I expect you to give it 110% to make sure that all those little guys and gals are completely entertained. I hope you know you all are role models and act right. By the way, please let my kid meet Sir Purr so he can stop obsessing about it. And by the way, a few tips on throwing a spiral from a pro wouldn't hurt either.
Dear Week… you were really rough on me and I'm really hoping you're not looking to make a repeat next week. Because honestly, it's not that I can't handle you, it's just that I don't have too many more vacation/sick days to work through all the stuff you're throwing at me.
Dear Work Out Room Upstairs… I know you miss me. I miss you. I am working on a plan to make sure we see each other much more regularly. This weekend is my last weekend to say "next week I start…"
Dear Son's School… You are starting soon and I can't say that there is anyone more excited than me. Scratch that. My son. Yes, he's only in 1st grade so he has plenty of time to realize how much he will dread going back to school but for now he loves the idea of going back to seeing his friends everyday and he's excited about being a 1stgrader. I hope that mentality sticks kid.
Dear Hormones… please just stop. You know what I'm talking about, no need to bring it all out into the public and stuff but just chill out. You're making me and probably most of my family members miserable.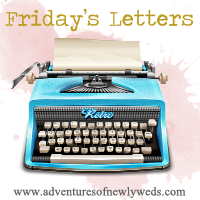 PS: follow me on twitter:
@tattooedmommie