Hello Monday, you beautiful thing you. I'm taking a positive approach this morning and I think it's helping.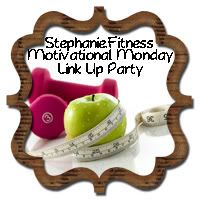 I'm excited for today's Motivational Monday post because I have something to actually be MOTIVATED about!
6 pounds down!
Somehow miraculously I've managed to not over indulge this weekend (after only getting in 1 workout last week) and drop my 2 lbs. I wanted to drop last week. Score!
Now, instead of talking about my upcoming workouts, I want to talk about something that my husband & I are looking into.
This is NOT a sponsored post, I post about this because it's something I'm truly interested in doing!
Ever heard of
9 Round
? Right now 9 Round is based out of South Carolina and is now franchised out into 18 or so states. What is 9 Round? From the website:
9Round is a specialized fitness center dedicated to serving clients who want a unique, fun, and proven workout that guarantees results. 9Round offers traditional "old school" boxing and kickboxing fitness programs that incorporates functional, interval, cardiovascular, and circuit training regimens. The programs are developed around a proprietary system of 9 challenging workout stations developed by a professional fighter. 9Round delivers total body results in a quick and convenient 30 minute workout with no class times and a trainer with you every step of the way.
We know that time is money. That's why the convenience of a circuit is so important. Your start your workout whenever you want; morning, afternoon, or evening.
Each of the 9 rounds is different, challenging, and fun. From learning how to jump rope to hitting the speed bag, you will never get bored. The 30 minutes will be over before you know it.
Our members can't stop saying, "This is the Best workout I have ever had". That's because you will work every muscle in your body simultaneously, with no complicated machines or silly aerobic routines
The best part is there is a trainer with you every step of the way, to motivate you and push you so you see results. FAST!
Ok, now that we are all on the same page, one of the main reasons I want to try it (other than my hubby being interested in doing it) is because I have a hard time keeping my cardio fresh. I'm not really a runner (yet!), and I don't have an elliptical or a treadmill so you can see how I can fall into a cardio black hole of boring!
We have a couple friends who are currently doing 9 Round and they really like it so I'm really excited about trying it out. Plus it met my husband's one rule of "NO CONTRACTS". After my last gym contract (where we basically paid for about 6 months of nothing) that's a hard and fast rule.
So hopefully I'll have a post up soon talking about either how fun it was or how I stroked out and ended up at the ER. I'm hoping it's not the latter.