Ok ya'll, this is going to be a quick one because I'm
SO
motivated that I just don't have time to be sitting here typing. Not really. But it's a busy week ahead and I have a lot of prep work to do but it's been a while since I've done a Motivational Monday, so here goes nothing.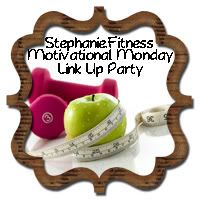 I'm linking up with Stephanie.Fitness for Motivational Monday!




Sorry this is going to be short and sweet this week.
Here's my goals for this week:
1. Hit 9 Round a minimum of 3 days this week, if not more
2. Have a week of GREAT nutrition.
I've been killing all my efforts at 9 Round by eating completely crappy

4. Help the Kiddo do better on his chore chart

5. Get my VT on! I have something fun I made for my VT Sisters & I totally want to share it
VT is short for
Visiting Teaching
(check out the linky) and it's something that we do in my Church. We have Sisters in the Church that we go visit each month to bring a spiritual message but also as a way to just fellowship with one another. This is probably one of my most favorite things about my Church so I really want to try to rock it.