We all know I'm married and that other than my fits of brattiness that come out when my husband tells me I can't buy anymore shoes, I'm very happily married. Hey, not going to lie, we don't have a perfect relationship, we both are Type A and so we tend to bonk heads every now and again. But I know, without a doubt that regardless if we are bickering over finances or football, he's got my back 100% and I have his. That's how it works! We're partners. It's us against the world.

But this isn't really about me and my husband, but it is about happy wives and some seriously uplifting stories.

See when I found +Fawn Weaver who started +Happy Wives Club and found out about her book Happy Wives Club, I was all about reading it! First, Fawn is absolutely fascinating.When I first spoke with her on twitter, I loved her positive nature and her devotion to spreading more positive marriage images! Then I stopped by her website and found such a great movement! Here is a woman who was going about her everyday life and was feeling like a lot of us have, as if all the negativity of marriage in today's media was overwhelming. Fawn has a great marriage and wanted to find and connect with other women who are happily married. And she has! Her website is flourishing with more than 1000000 visitors and a community of more than 150000 women.

I mean for real, that's incredible!

So, Fawn asked me if I wanted to receive an advance copy of her book, Happy Wives Club and I instantly said "YES". I just knew her book was going to be a much more elaborate version of her, filled with positive messages and examples of love and life that I love to read about. And it is. Fawn traveled all over the world and shared amazing stories of marriage, love, sadness, humility, sincerity, joy, and everything else that comes with marriage. From California to Cape Town and so many places in between, her book takes you with her on her journey and shares those stories of these wonderful people who were open and honest with her about love and life.

I want to share parts of stories that stuck out to me but there are so many, I could fill an entire blog post with just quotes from this book. So instead, I do want to share one line that I highlighted, then underlined. Which is a big deal in the sense of my book-markings.

"... I was reminded of how fortunate I am to have married the man of my dreams. Not the perfect man, just the man who is perfect for me."

And at the end of this inspirational book, there's a gem. The Twelve Secrets of a Great Marriage. I won't spill them here because I really want others to go out and read this book. Some of the advise that's in here you may agree with, some you may not. But the stories are fascinating and it's a wonderful read. I've not highlighted a book so much since I was in college!

So I encourage you, please go out and check out Fawn's website Happy Wives Club, check her out on Twitter @HappyWivesClub or on Google+ or Facebook.

And a bonus, if you pre-order her book look at all the great gear you get!!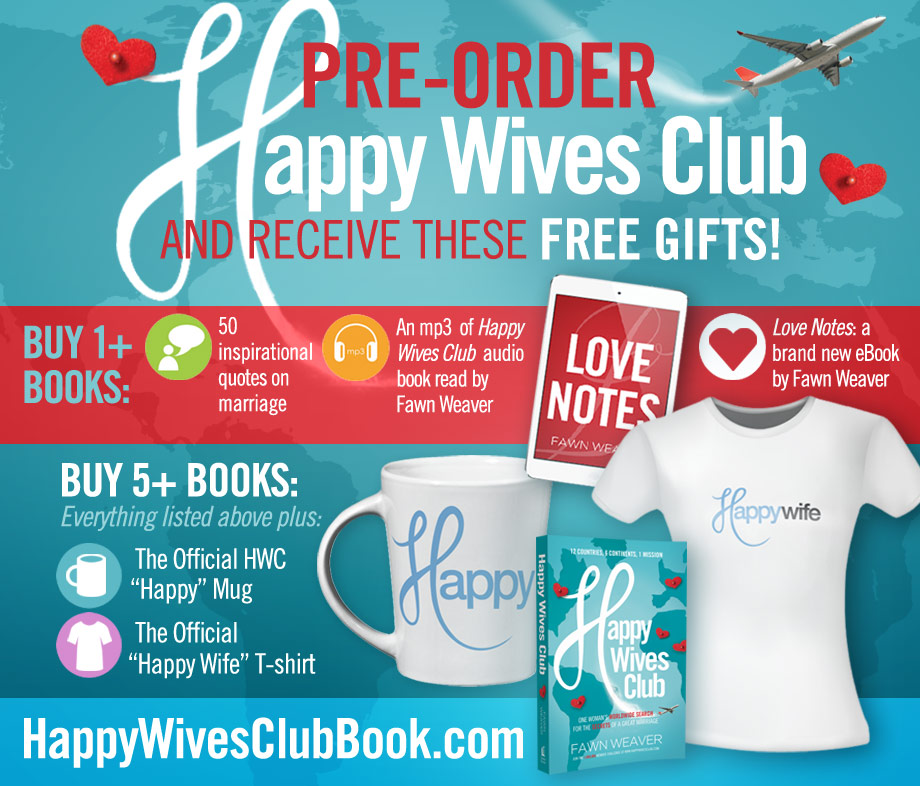 Get her book on
Amazon
or
Barnes & Noble