And by WE, I mean me and my kid. Frankly, he reads more than I do, and I love that about him. I hope that the reading bug stays with him.

So today at lunch I ran by our local library headquarters. The one by us is a small branch but I love it, it has the best view out of it's wide floor to ceiling windows that overlooks a river and greenery. It's so relaxing there. But I was bored at lunch and it's been great weather so instead of waiting for the weekend to come and going to our local little branch I decided to hit our library's main headquarters. Needless to say, I could have spent hours in there.

But I had a mission, I was getting a couple of book for my kiddo to read because now that summer is almost here, I don't want him to lose that interest. Plus, we're running out of chapter books for him to read by himself when he wakes up at night. He has an interesting little routine going on right now. After I read to him (currently Harry Potter) before bed, I'll turn out the lights and he'll turn on his LED light that's attached to his loft bed and he'll read to himself for a bit before going to bed or if he happens to wake up in the middle of the night. So far he's completely re-read the entire Diary of a Wimpy Kid series. So I'm in some serious need of books to keep him entertained at night.

Anyway, the title of this is what we are reading, not all about my kid's reading habits.

What The Kiddo Is Reading
Hank the Cow Dog The Case of the Vampire Cat and The Lemonade War.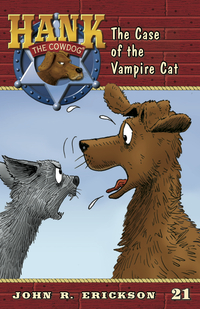 I started reading Hank the Cow Dog to him when he was about 6 years old, when he first became infatuated with dogs. It's a great series and I can't believe how many of them there are. It's always a funny read and I hope he gets hooked on these again because I actually like reading them with him. Plus, now that he's reading at a more advanced level, he can read these to himself. By they way, they have a really fun website for kids too.


The Lemonade War
is new to me, I just found it on the Barnes & Nobel website and the story sounds intriguing. There are five books in the series and this is the first, which I'm all about starting new series, so we'll just see if he can get into it.
What I'm Reading
I've just hit the forth chapter of The Black Box by Michael Connelly. Yes, I'm still on my Harry Bosch kick. I just can't stay away, plus there's a new Bosch book coming out soon so it makes me want to finish up the series so I can see what's NEW! I haven't really had the time to read like I used to, but I'm making good progress because the book really is a page turner.
So... there we go... that's what we're reading.... What about you?